Ningbo Kimpin Industrial Pte Ltd
Name:Jingling,Zhuang
Department:Sales Department
Position:Sales Manager
E-Mail:sales@kimpin.com
TEL:+86 574 87321223
Fax:+86 574 87321223
Pure tungsten electrode WP Welding rod Welding electrodes
Pure tungsten electrode WP Welding rod Welding electrodes
Model NO. WP20
Minimum order quantity:500 pieces
Accept Min order:Yes
Country of Origin:Ningbo or Shanghai
Product Description
Pure tungsten electrode WP Welding rod Welding electrodes
The pure tungsten electrode is the one without any addition of oxide. The power of e electrode transgression is as high as 4.5ev. Requiring a high voltage for arc derivation; It has a low current capacity and is easily burnt. It is suitable for application under the condition of AC and in the situation of low welding requirement
1) Color mark: WP(green)
2) Other impurity: ≤0.10%
3) Diameter: 1.0 - 12.0mm
4) Length: 50.00, 75.00, 150.00, 175.00mm,178mm
5) Quality of surface: Ground finish, polish finish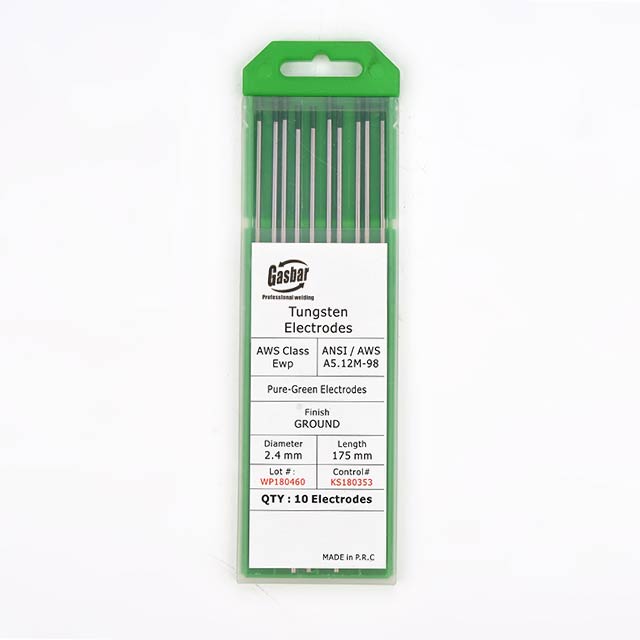 Ningbo Kimpin Industrial Pte Ltd. is specialized in designing&manufacturing a wide range of industrial gas welding/cutting equipment,gauges,regulators, cutting/welding torches,safety apparatus,related accessories and medical therapy and suction devices.

As a professional supplier of welding equipments, we have built up our own experience in machining, quality control and testing in the past 20 years. The parts of our products are machined by CNC. Every product is 100% inspected and tested strictly before delivery.

Our brand""is a famous brand in China. Our company has passedISO9001 Certification. The products are UL listed and CEmarked,the safety gas valves and gas shut-off valves are CSA listed. The design and construction have been treated to meet the full requirement of EN ISO standard, such as EN ISO 2503,EN ISO5172, EN730-1,EN ISO 562andEN ISO 837-1…etc.
1. Q: Are you manufacturer or trader?
A: We are the most professional manufacturer in China for gas equipment. We have one factory producing gauges and regulators, and another factory producing cutting, welding torches and nozzles.
2.Q : Do you have UL to USA ?
A: Yes, we have UL certificate for gauges,regulators and torches.
3.Q: Do you have CE?
A: yes we have CE for gauges and some regulators.
4. Q: what is your quality control system?
A:Our factory had passed ISO 9001. And we are using ERP management system for 3 years already. 100% product is tested as the standard testing procedure before leaving our factory.
5. Q: What's the delivery time?
A: Usually it takes 30-35 working days after customer confirms the order.
6. Q: What'S your warranty terms ?
We offer 1 year warranty for materials for all our products For quality problem.
7. Q: About OEM ?
A: OEM is welcome, special packing design free.